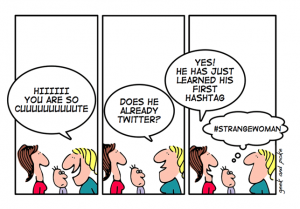 Those of you that read these posts (my faithful dozen(s), as I like to call you) know my affinity and love for Twitter.  I joined the medium about 3 years ago as a way to grow and promote my business to the eager masses (sarcasm fully intended), but what I really discovered was two things:  I'm an incredibly popular Twitter follow for random Scandinavian teenage hackers and anyone and everyone in the world with a computer and an internet connection can write ridiculous garble in 140 characters or less.  However, what I also discovered was that once you wade through the nonsense, Twitter, if used properly, is truly an amazing tool for learning and growth.  It took me the better part of two years to figure this out, but once I did I've been able to make Twitter my ally.  Although the means of using Twitter to promote myself and my business is still sort of a mystery, I really do learn something new every day.  Being a trainer can sometimes be quite isolating, with long gaps between appointments, out-of-the-blue cancellations, and no-shows just part of everyday life.  I like to say to people that the iPhone in general and Twitter more specifically, were created and invented specifically for me.  Or, really, for people with jobs like mine.
Right now I follow 209 people on Twitter.  Some of those are friends and family, others sports columnists and beat writers from my hometown of Cleveland, but the vast majority are trainers, coaches, health experts, wellness bloggers, fitness consultants, and physicians whose knowledge in the field far surpasses my own.  I try to scroll through my feed at least every few days and read as much as I can. To show off how powerful it is for me I wanted to share what I just learned in the last ten minutes while scrolling on my iPhone.  That's right.  Everything below was gleaned in the last 10 minutes; most of it information that I didn't know or haven't heard before.  A sampling:
According to research by University of California professor Sonja Lyubomirsky, the happiest people in the world all have the following in common (amongst other things):  They devote a great amount of time to family and friends; they express gratitude for what they have; they are optimistic about their futures; they make exercise a habit; they savor life's pleasures; and they try to live in the moment (all this via my favorite blogger, Erik Barker.)
Barilla Gluten-free Spaghetti has more carbs, less fiber and less protein than Barilla whole grain Spaghetti.
Vitamin Water is 72% fructose, which is processed by the liver and then converted to fat which increases the risk for diabetes, cardiovascular liver disease and obesity (SarahStanleyInspired.com).
A shift in temperature exposure could be a factor to the rise in obesity.  People with more brown fat, which burns energy to generate heat, tend to be leaner and have lower blood sugar levels, meaning that keeping cool might help to keep you thin (Via Science Daily).
18 U.S. markets set World Cup TV ratings records for viewership for the USA – Portugal match from Sunday, June 22nd (Via ESPN Research).
Corin and Brian Mullins, a husband and wife team from Gibsons, British Columbia, right outside of Vancouver, have a company called Holy Crap (yep) that makes homemade, gluten free, organic, non GMO breakfast cereals from scratch, using ingredients such as hemp hearts, chia seeds and buckwheat.  Some of their recipe's look downright amazing.
A bit of controversy erupted recently when the coach of the Bosnia-Herzegovinia national Soccer team told his players that they were not allowed to have sex during the World Cup because he feared that it might impact their performance.  However, according to research, it is inconclusive as to whether or not having sex before a match has any influence at all as to how the players actually perform (Via Time Magazine).
Half a head of Iceburg lettuce, not traditionally a popular food item with nutritionists and others because of it's perceived lack of nutrients, actually has significantly more alpha-carotene (a disease fighting antioxidant) than either romaine lettuce or spinach (Via Men's Health).
A Dutch study found that consuming a gram of red pepper flakes 30 minutes prior to a meal reduced calorie intake by 16 percent.  The research also suggested that its main ingredient, capsaicin, might help kill cancer cells (Via Men's Health).
Michael Boschmann and his collegues from Berlin's Franz-Volhard Clinical Research Center estimate that if a person increases his or her water consumption by 51 ounces a day, he would burn an extra 17,400 calories per year, around 5 pounds of body weight.  And Dr. Brenda Davy, an associate professor at Virginia Tech, found that people who drank water before a meal consumed an average of 75 fewer calories at that meal (Via Men's Fitness).
A human being was spotted recently at a Phoenixville area Dunkin' Donuts ordering a bagel with raspberry jelly, cutting the bagel into squares with his own personal pair of scissors from home, eating the bagel with a plastic fork and knife while dipping the bagel into his coffee (ordered specifically with extra sugar and just a "tad" of cream).  Ok, this was not learned on Twitter, but I did actually see this happen right before my own eyes while writing this blog post at a local Dunkin' Donuts.  Seriously.
So in just 10 minutes, with minimal effort and even just a quick read through of various posts and articles, I learned information that can not only help me with my job and be passed on to my clients, but also a few fun facts that I found interesting (even the bit about my elderly friend at Dunkin' Donuts.  No doubt that I will pass that along as a future Twitter post).  My best advice if you have a Twitter account:  Clean it up as much as you can to find and follow those that interest you and use it to your advantage – whether it is in business or for fun.