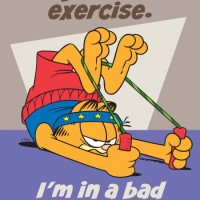 On my ever growing wish list of books to read is one called Spark:  The Revolutionary New Science of Exercise and the Brain.  It was written in 2008, but the studies and conclusions from the book no doubt resonate today.  The below tidbits were pulled from this blog, one that I've posted and expanded upon before.  Some of the book's findings include:
"A massive Dutch study of 19,288 twins and their families published in 2006 showed that exercisers are less anxious, less depressed, less neurotic, and also more socially outgoing. A Finnish study of 3,403 people in 1999 showed that those who exercise at least two to three times a week experience significantly less depression, anger, stress, and "cynical distrust" than those who exercise less or not at all."
"In a landmark study affectionately called SMILE (Standard Medical Intervention and Long-term Exercise), James Blumenthal and his colleagues pitted exercise against the SSRI sertraline (Zoloft) in a sixteen-week trial… Blumenthal concluded that exercise was as effective as medication."
"Researchers tracked 8,023 people for twenty-six years, surveying them about a number of factors related to lifestyle habits and healthiness starting in 1965. They checked back in with the participants in 1974 and in 1983. Of all the people with no signs of depression at the beginning, those who became inactive over the next nine years were 1.5 times more likely to have depression by 1983 than their active counterparts." 
So, according to Spark, exercise can reduce anxiety, depression, promote social function and is just as good as popping a pill, maybe better.  For myself, I know this to be absolutely true.  I notice that on the days that I exercise I have more energy, I feel healthier, and can focus more easily on work and daily tasks.  On days that I don't exercise or are not active in any way, I'm much more reserved than I already am and find it a lot harder to muster up the energy to take my son to the park or even get off the couch and give my dog a bath.  When I am active, the simple and mundane tasks become easier, which in turn makes the big stuff a little easier as well.  At least for me.  Now, some of you might be nodding your heads while others might be a little more skeptical.  And that's fair.  So what I did last week was ask a few of my clients to write a short paragraph with their opinion on how exercise has helped them over the years, and if the above findings and my own conclusions from personal experience, make sense to them.
One client, who I've been working with for just under a year, has used exercise to tackle issues she struggled with in the past and has also used it as an outlet to enhance her own self perception, which is just as important as simply being healthy and in good shape:
"I've struggled with an eating disorder and poor body image for years. Having children and a husband, it's important for me to be healthy and whole for not only me but my family. Once I started weight and strength training to help me stay on track with diet and exercise, I started to notice a difference in my body, my energy levels, and my mood. I'm starting to see my body for more than just a number on the scale.  My body is strong and this strength motivates me to keep pushing myself to be better and to see how amazing and strong my body really is!"
Another client has used her age as motivation, along with simply looking in the mirror and wanting to look and feel better about herself.  Exercise can be a bit of a chore, perhaps, but one that can have extrinsic motivation as well:
"I know that since I got up to a certain age I have to exercise.  It's good for me mentally but I also notice that when I don't exercise on a regular basis I get aches and pains associated with age.  Self image and fitting into your clothes is my major motivation."
Staying and feeling young can be motivating as well, as my next client relates.  Or, more specifically, the feeling she gets when she exercises makes the battle against aging seem like a more even fight:
"We are all getting older everyday.  Holding on a bit to youth for me happens through diet and exercise. It makes me feel good that I am stronger, more fit, and able to ask way more of my body than I could when I was 20.  At 43, it definitely provides self esteem to ask my body to do things at a high level of intensity and see results.  The results for me are clothes that fit and a body image that I can live with while I fight the inevitable fight of aging."
Sometimes exercise can be a necessary evil that will almost inevitably leave you feeling a bit better when you are done.  Getting to the gym and starting a routine can be hard but in the end, it can be worth it, as one client explains:
"As much as I complain while I'm exercising, I almost always feel better than I did when I started. Somehow the rest of the day I have more energy and a spring in my step. I've noticed that when I focus on doing core exercises, particularly Pilates, I find that even my posture is better.  I also find that when I'm really stressed, taking a walk really helps calm me."
My final client simply makes exercise a priority as part of her hectic life:
"Exercise has always been a foundation in my life. With an innate need to be active as much as possible, playing sports, working out, and even doing household chores involving movement are part of my best days. Without activity, my body aches and my mood plummets! Of course, with increasing responsibilities as a wife, mother, daughter to aging parents, and working professional, finding the time to exercise has become more challenging — but I've learned to prioritize my health and fitness needs and MAKE the time for exercise. I can always count on exercise to increase my energy, improve my sleep, put a smile on my face, and simply make it a great day!"
I'm sure many of you have your own examples of how exercise, activity, and just simply being healthy has helped you tackle day-to-day tasks and other obstacles.  I'd really like to hear about them.  Or perhaps it could be the other way around.  Either way, with summer upon us, I'm ready to get outside, get active and encourage all of my clients to do the same.